It's always hard to predict what might happen in the markets over the next 12 months, but one thing is for certain – 2020 will not be boring. With a U.S. presidential election in November, the U.K. inching ever closer to Brexit, the U.S.-China trade war potentially coming to a head and questions around whether the decade-long stock market bull run can continue, there's plenty for investors to pay attention to in the coming year. To find out more about what Canadians can expect in the months ahead, IG Wealth Management spoke to Paul Taylor, vice-president and portfolio manager with Mackenzie Investments. 

Global economy: The recession question 
The question that is on most people's minds is whether or not there will be a recession. Taylor thinks it's unlikely. While an unforeseen event can always impact the global economy, he expects gross domestic product (GDP) growth to expand at a modest rate, both globally and closer to home. In 2019, the U.S economy grew by 2.2%, and he's predicting a similar increase in 2020. As for the Canadian economy, we predict slower growth, but it should increase in size, expanding between 1.75% and 2% next year, says Taylor. Globally, he expects the economy to grow by about 3.00% - 3.25%, too. 
Despite many prognosticators suggesting that a recession is on the horizon, Taylor says that the conditions for negative growth are not materializing. Typically, you see wage growth accelerate to the point where prices for everyday goods start rising – this is called inflation – at which point central banks have to raise rates to cool the economy and ensure costs don't climb too quickly. At the moment, U.S. wages are growing at about 3.25% year-over-year in North America (see – chart 1 - The lack of inflation is the real story in the US), while inflation is at around 2%. These are not concerning numbers, explains Taylor. 
As well, central banks are not raising rates. If anything, they're lowering them, with the U.S. Federal Reserve cutting its short-term lending rate – a number that impacts all kinds of borrowing – three times in 2019. Rate cuts tend to spur economic growth, and we're still a ways away before they hike again. 
Canada: Our economy chugs along 
This past year was mixed for the Canadian economy, with strong growth in the first half of the year and weaker growth in the second. Job numbers soared, until they didn't, with the country shedding 71,000 jobs in November, the worst decline since 2009. (Still, the economy has added close to 300,000 jobs over the last 12 months.) That economic volatility makes it more difficult to predict how Canada might fare in 2020, but most likely it will move along at a modest clip. 
Despite the weak November employment figures, people are still hiring – anyone who wants a job can still find one, says Taylor – while wages in Canada are growing at a solid 4% rate, which suggests that the consumer will continue to prop up the economy with more spending. Taylor expects inflation to remain steady at about 2%, while the Bank of Canada will likely keep its overnight lending rate near the 1.75% it's at now, though it could lower it if the economy struggles.
There is one risk to watch out for: consumer debt. Canadians are still overleveraged, with our household debt-to-income ratio reaching 174% in the third quarter of 2019, up from 173.4% in the second quarter. That means that for every dollar of income people earn, they owe $1.74. That debt is serviceable given the wage increases and decades-low debt borrowing costs, but it's an issue that shouldn't be ignored. 
U.S.: What to expect from elections and trade
The November presidential election is a big story for investors in 2020. However, while the vote, and the lead up to the election, will surely be drama-filled, it will not roil markets as people might expect. Historically, equity investors like a divided government – when Democrats control one branch of government and the Republicans control the other – because that makes it harder to pass legislation that could negatively impact markets. That is the likely outcome of the next election, says Taylor, with Democrats controlling the House and Republicans running the Senate. Who actually wins the presidency is less of an issue than the makeup of Congress. 
On the trade front, the U.S-China trade war, which has impacted markets both positively and negatively, (see chart 2 – S&P 500 Q4 Performance) depending on the news, should be less of a headwind in 2020, says Taylor. The two sides have made progress, with President Donald Trump agreeing to not implement a previously planned December tariff hike on Chinese-made consumer goods, such as smartphones and laptops. In turn, the Chinese government has agreed to buy more agricultural products from the U.S. Will the two sides completely resolve their issues before the November election? That remains to be seen, but this ceasefire is good news for markets and the global economy.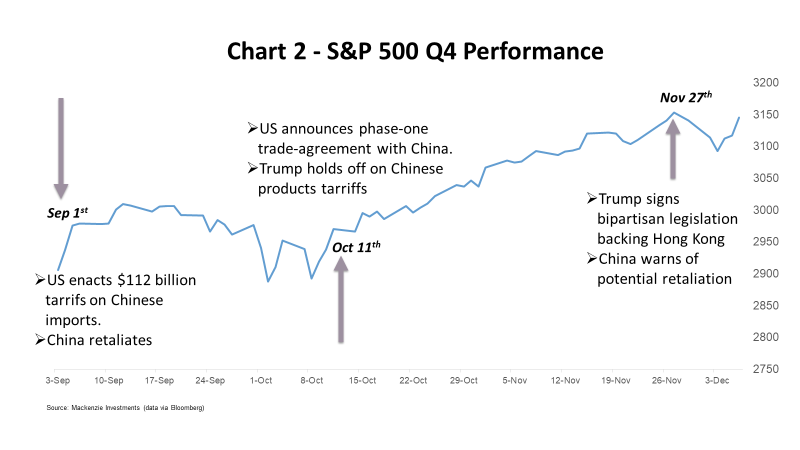 Overall, the U.S. economy should experience moderate growth. The Federal Reserve will likely keep rates where they are for most of 2020, unless the economic picture changes, which will help growth, as borrowing remains cheap. As well, inflation is likely to be contained at around 2%, consumers are confident about the future and industrial activity is expected to accelerate.
Stock market: Modest returns ahead 
It's company earnings that ultimately move markets, and 2020 should be better for businesses than 2019, says Taylor. While it won't be the gangbuster double-digit growth of two years ago, earnings for Canadian and U.S. companies should expand by about 5% over the year, he notes. If trade concerns are alleviated, then companies will be more willing to invest in capital expenditures, which is positive for earnings. 
All that said, global markets should rise again in 2020, though likely not by as much as they did in 2019, as the gains from the more positive trade and economic news have already been realized. Still, Taylor thinks price-to-earnings multiples will hold, which, along with modest earnings growth will cause stock prices to rise by about 5%. Add in a 2% dividend yield – the average yield of the S&P 500 – and you're looking at mid-to-high single digit growth. 
For most investors, no matter what 2020 brings, owning a well-diversified portfolio, one that can grow in the good times and withstand any market shocks, is the best course of action. Politics can be unpredictable, consumers can be fickle, economic prospects can look good one month and not as rosy the next, and markets will always rise and fall. Canadians need to stay the course, focus on their life's goals and objectives, and continue saving for the future.
This commentary is published by IG Wealth Management. It represents the views of our Portfolio Managers and is provided as a general source of information. It is not intended to provide investment advice or as an endorsement of any investment. Some of the securities mentioned may be owned by IG Wealth Management or its mutual funds, or by portfolios managed by our external advisors. Every effort has been made to ensure that the material contained in the commentary is accurate at the time of publication, however, IG Wealth Management cannot guarantee the accuracy or the completeness of such material and accepts no responsibility for any loss arising from any use of or reliance on the information contained herein. Commissions, fees and expenses may be associated with mutual fund investments. Read the prospectus before investing. Mutual funds are not guaranteed, values change frequently, and past performance may not be repeated.
© Copyright 2019 Investors Group Inc. Reproduction or distribution of this commentary in any manner without the express written consent of IG Wealth Management is strictly prohibited. Please read Conditions of Use for more information concerning authorized uses of this document.