About fees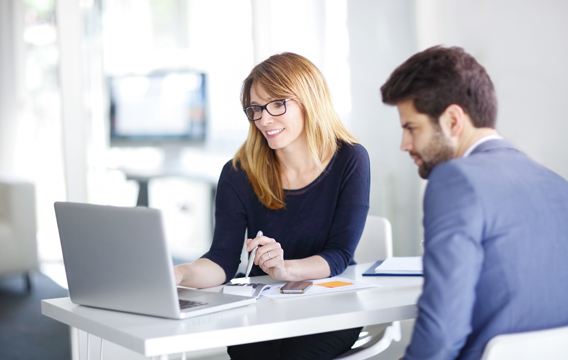 We believe clarity and simplicity is important when being able to quantify the value of the advice. That's why we made fee transparency a top priority. We began by eliminating the Deferred Sales Charge (DSC) and now offer unbundled, fee-based products for all clients. Our fees have been decreasing since 2012 and we conduct an annual fee review to ensure they reflect increasing industry transparency.
As an investor, you want to be informed about the fees and charges that are paid either directly by you, or by the funds that you invest in.

When you invest, we will provide you with the information you need up front for your specific investment choices. Transaction fees will be reported as they occur, and you will also receive an annual Fee Summary with your statement that shows the amounts that we collected over a 12 month period.
The information here answers many questions regarding fees. For mutual fund investments, you may also refer to the fund's financial statements, prospectus, the Management Report of Fund Performance, or Fund Facts.
If you have additional questions, contact your IG Wealth Management advisor.
Who pays fees and expenses and who receives payment?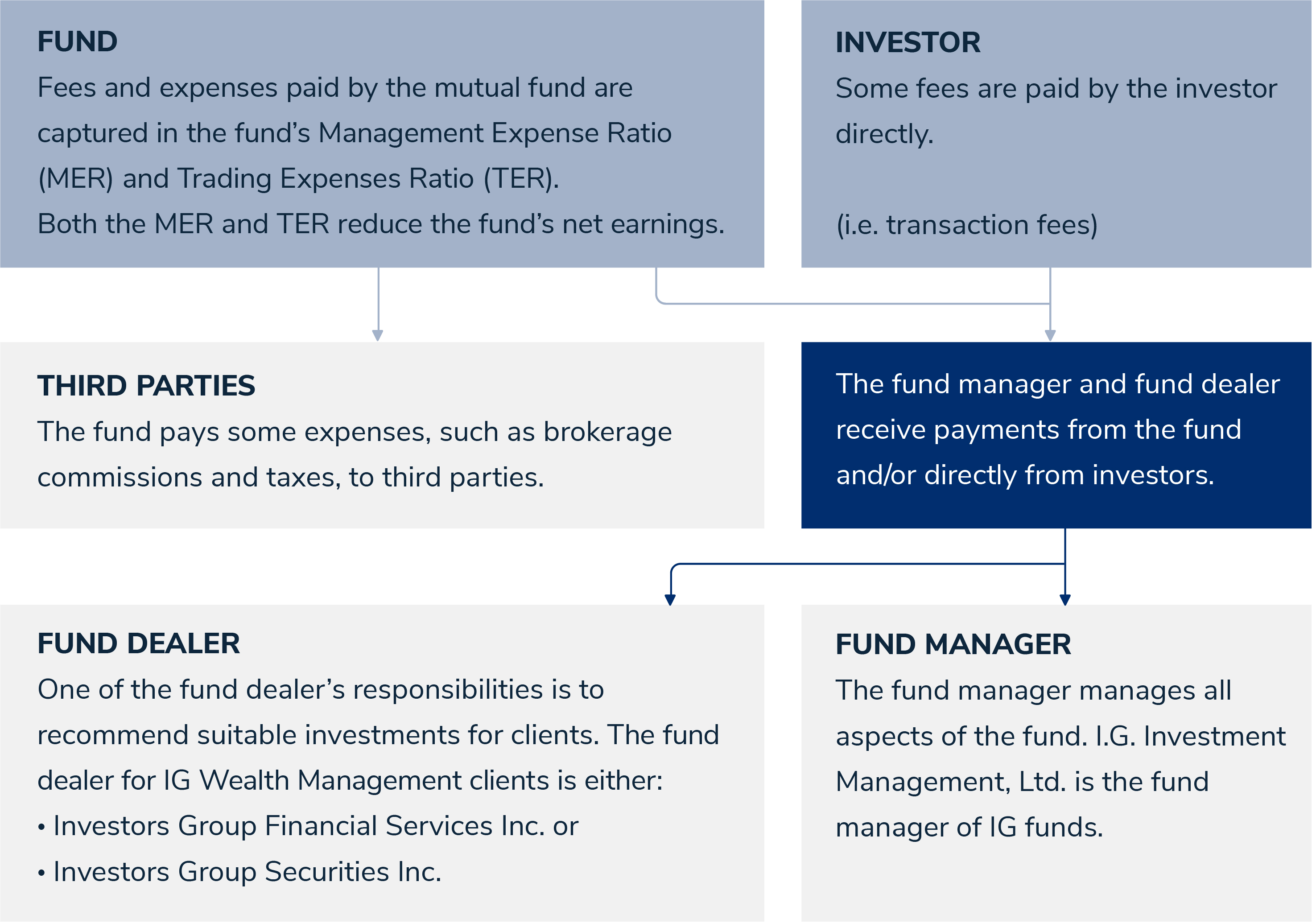 Frequently asked questions about fees
Fees and expenses included in a Mutual Fund Management Expense Ratio (MER)

Fees and expenses included in the MER are paid by the mutual fund.

Operating and other expenses


Fees payable by the fund (excluding management fees) to cover administrative costs and expenses required to operate the fund.

Examples of what it covers:

Fund accounting and valuation
Tax Reporting
Audit fees
Legal expenses
Regulatory filing fees
Distribution fees
Service fees
Trustee fees

 

Where is the amount shown?


Management fees


Fees paid to the fund's manager and/or portfolio advisors for investment advisory and management services, and to the dealer for distribution (client) related services.

Examples of what it covers:

Selecting investments, managing risks, analyzing securities, and managing asset class allocations
Account statements
Consultant compensation
Ongoing service and advice
Comprehensive planning
 

Where is the amount shown?


Included in the MER. MERs are published in the Management Report of Fund Performance and Fund Facts for each fund series.
The portion paid to the dealer (Dealer Fee or Trailing Commission) is shown as a dollar amount on your Annual Fee Summary included with your statement.

Taxes

 

Where is the amount shown?

Mutual Fund Trading Expense Ratio (TER)

The Mutual Fund Trading Expense Ratio (TER) reflects the trading related expenses that are incurred when securities within a fund are bought and sold by the fund manager.

Who pays the TER?

TER expenses are paid by the mutual fund.


Where is the amount shown?

Other fees which may be charged directly to the investor

Administration fees

Fees that are paid for general administration of your account.

Examples of what if covers:

Annual administration fee
Money market chequing services fee
Advisory fee for iProfile, Series U funds and Azure Managed Investments


Where is the amount shown?

Administration fees will appear on your statement in the period when they are charged.
Advisory fees will show as a separate year-to-date summary.
Your Annual Fee Summary will show the total administration fees for a 12 month period.
 

Transaction Fees

You may have to pay other fees for specific transactions, such as when you choose to buy, sell or switch units of the fund.

Examples of what it covers:

Account deregistration
Transfer fee
Excessive switching fee
Short-term trading fee
Duplication statement fee
Deferred sales charges (DSC)
Banking charges (i.e. certified cheques, stop payments, wire transfers, or returned items)

Where is the amount shown?

Specific transaction fees will appear on each statement in the period when the transaction occurred.
Your Annual Fee Summary will show total transaction fees for a 12 month period.

Taxes

Examples: